Steps to follow:

1. Change WordPress URL in WordPress Admin Dashboard.
After downloading all your site files to your local PC and then moving them to your new URL, you will need to log into your WordPress Dashboard as an administrator.
Next, you will click on Settings from the menu, and then General. …
Then you will enter the new (URL) Addresses on the two fields as shown below.
The next step will be to scroll down the page and click on the Save Changes button.
Now, there is a chance where WordPress Address and Site Address are not editable. In other words, If the fields are not editable (as seen below), it's most likely because they are hard-coded in wp-config.php file.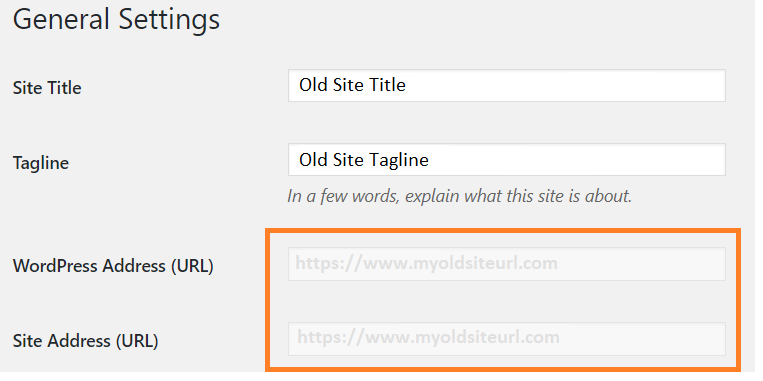 So if that is the case then, changing WordPress URL in wp-config.php file may be the solution for it.
2. Change WordPress URL in wp-config.php File
The second most common way to change your WordPress URL as we have previously mentioned, is via your wp-config.php file. It is important to note that values in wp-config.php override the settings in method one.

3. Change WordPress Site URL Via phpMyAdmin
Log into the cPanel account for the domain in question.
Click on the "phpMyAdmin" icon within the "Databases" section.
Expand the database associated with the WordPress installation and select the "wp_options" table.
Search for "siteurl" within the "option_name" column and click the "Edit" link on the same row.

So now that you have completed all the necessary changes and updated everything with your site, this should be the time to check for broken links.
I usually use broken-links-finder from SeoPrimeTools.com.
Why having broken web links is so bad and why you should fix it?
Dead hyperlinks on websites are not just annoying, their existence may cause some real damage to your online business as well as to your reputation in the Internet!
Because of that same situation, a web-site owner may:
Lose some of the existing customer base (current users may sooner or later get frustrated enough to never come back);
Get problems with potential clients (because of the dead web links people simply won't be finding things/pages they are looking for);
Damage your site reputation (most of online customers consider stale hyperlinks as demonstration of no respect to them from the site's owners);
Have negative impact on your website's ratings with major Search Engines like Google, Yahoo, Bing etc…
As you can see, broken links can be problematic for website visitors, making them unable to access the desired resource or information. These users may decide to make use of another site to find the necessary information elsewhere. A site that hasn't been updated or checked for a long time may suffer from link rot, which is a term used to describe a site with dozens of broken links.
Suggestion
Make sure to check your site regularly using SEO Tools like Broken Links Finder provided FREE of charge from SeoPrimeTools.com.
With the Broken Links Finder, you can check your site and correct 404 error pages you may have without realizing that you had one.